In search of the best mesh WIFI routers that can provide strong signal strengths even through thick walls?
Having a WIFI network in our homes is the best way to connect all our devices to the internet without requiring any LAN cables.
As most of our study, work, and leisure activities are done online, the need for a reliable internet connection is real.
However, network drops and weak signal strengths are two common issues most of us face while on WIFI.
Not just at home, but WIFI connection issues are also common in workplaces.
So, what actually makes it so difficult to get a strong WIFI signal in closed spaces?
Well, it's the walls that surround you.
How Walls Interfere With WIFI Signals?
Walls are the No. 1 destructor of WIFI signals.
However, how much walls interfere with your WIFI signals depend on the material used.
For instance, walls made of plywood, timber, or glass have the least effect on WIFI signals strength.
In comparison, walls made of concrete blocks affect 50x more than walls built using timber, glass, or plywood.
Moreover, the loss of WIFI signal caused by a concrete wall also depends on its thickness.
So, if you're experiencing weak WIFI signals due to thick surrounding walls, what can be done to resolve this issue.
Well, mesh WIFI system is the answer.
What Is Mesh WIFI and How It Works?
Mesh WIFI, or Whole Home WIFI system as its known, is a system that allows you remove any WIFI dead zones in closed spaces, thus allowing everyone to use uninterrupted full-speed internet connectivity throughout the home or office.

With a mesh WIFI system in place, people can enjoy equal internet connectivity and performance throughout the entire home or office space.
So, how does mesh WIFI achieve this?
Traditional WIFI routers have a fixed range radius and gets weaker the farther away the connected device is from the router.
Also, if there are thick walls made of materials that interrupt signal passage, the WIFI signals can become even weaker.
Using a WIFI extender is a common method to extend the range of a WIFI connection. However, the increase in connectivity range comes at the cost of internet speed.
With a mesh WIFI system, internet connectivity is spread across the closed space with the help of "node" devices.
Nodes are connected to other nodes that are closest to them.
Subsequently, one of the nodes will be connected to the internet modem, thus creating a complete internet network throughout the space.
Extending the range of the WIFI network is easy as adding a new node and connecting it to an existing node.
WIFI Extender vs Mesh WIFI: How Are They Different?
Simply speaking, the outcome of the WIFI extender and mesh WIFI system looks quite similar.
They both extend the range of your WIFI network to cover an extended range.
However, the actual functioning of both the methods are quite different.
WIFI extenders, also known as WIFI boosters or WIFI repeaters are that extend the range of your WIFI modem by rebroadcasting the signal.
So, each WIFI extender creates a new network by taking in WIFI signal input from the original modem.

Thus, when you leave the WIFI range of one modem and enter the range of a particular extender, you have to manually disconnect your device from the first modem and connect to the extender network.
So, the more number of WIFI extenders you use, the more number of WIFI networks will be created and you have to disconnect and reconnect each time you leave and enter a particular network area.
On the other hand, with a mesh WIFI system, all the nodes connect to your original internet WIFI modem.
So, instead of creating a new WIFI network and rebroadcasting the network as in the case of WIFI extenders, the nodes in a mesh WIFI network extends the range of the original network connection.
This means that you do not have to disconnect/reconnect when you leave/enter a node area, your device automatically connects to whichever node is the closest.
Advantages Of Using Mesh WIFI For Thick Walls
Below is a quick look into the advantages of a mesh WIFI network.
Flexibility in Network Coverage: One of the greatest advantages of a mesh network is that you can easily change the network coverage size. All it takes to increase or decrease the coverage area of your WIFI network is to add/remove nodes from the network.
Ability to Self-Configure: When the node size increases, it becomes quite difficult to configure each individual node. However, in the case of a mesh network, all the nodes have the capability to configure itself to the settings of the root node to which it is connected.This way, you do not have to do any additional configuration steps if you choose to add new nodes or remove existing ones.
Ability to Support High Demand: In scenarios where the network traffic is high or there is a demand for high-speed internet connection over a wider area, establishing a mesh network is the best choice.Unlike traditional network expansion, there is no drop in network speed experienced while connecting to any nodes in a mesh network. Thus, you can experience the same level of connectivity and speed regardless of how away you are from the root node.
Cheaper than Traditional Network Expansion: Unlike traditional network expansion using LAN cables, establishing or expanding a mesh network requires fewer cabling.Thus, the entire process is quite cheaper in comparison to other forms of network expansion.
How To Pick The Best Mesh WIFI System For Thick Walls?
Below are some tips that will help you to pick the best mesh WIFI system for use in home/office spaces.
Hardware Specs: The hardware specs of any mesh WIFI system give a picture of how effective the system is.One of the most important specifications to check for is the number of antennas featured in the mesh WIFI router. This spec is usually mentioned in the form of transmitting x receive metric and is represented in the form 2×2, 3×3, or 4×4.The more transmit x receive antennas a mesh router has, the better connectivity you'll get.
Radio Support: Support for both 2.4GHz and 5GHz bands are also really important for any WIFI router to ensure that you get both long-range as well as faster internet connectivity at all times.WIFI routers that have 3 radios will usually include an additional 5GHz radio to ensure the best internet speed and range.
Ease of Installation and Expansion: Mesh WIFI systems are supposed to be expansive as users should be able to add/remove nodes when required to reduce/expand the network area.Mesh WIFI routers need to be easy to install and configure so that anyone can follow the same steps to expand or reduce the coverage area without requiring any special expertise.
Best Mesh WIFI For Thick Walls In 2021
Now that you know in-depth about what a mesh WIFI is and how much of an advantage it has over other forms of WIFI or wired network expansion, below are some of the best mesh WIFI system options available for thick walls.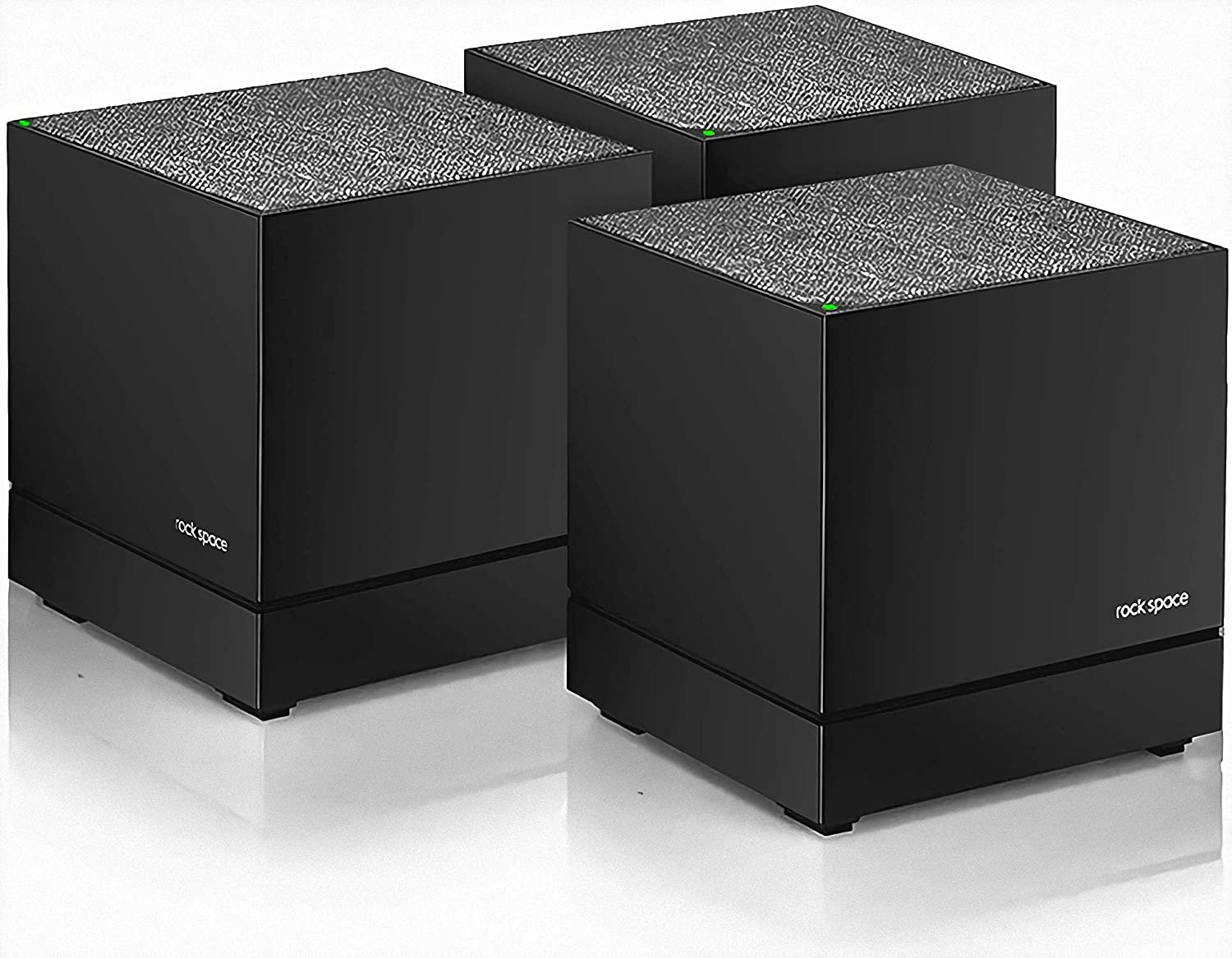 For anyone in search of the best mesh WIFI systems out there, the rock space mesh WIFI system is among the best options out there.
Rock Space mesh WIFI system is best for houses/offices with thick walls around.
According to the manufacturers of the Rock Space mesh WIFI system, it can cover a maximum area of 5380 square feet and offer a maximum speed of 1200MBps.
The coverable area offered by the Rock Space mesh WIFI system is enough to cover 3 floors of a building, which is enough to cover most home and office spaces.
You can read our detailed review of the Rock Space mesh WIFI system by clicking here to find more details about the product.
Google also have their own mesh WIFI system available for sale. The Google Nest WIFI system is available on Amazon.com for just $168.99 [click here to buy].
The Google Nest 4×4 mesh WIFI system available on Amazon is the 2nd generation of the system, hence is really advanced in terms of functionality.
For starters, each Nest WIFI router can comfortably cover an area of 2200 square feet and even penetrate through thick concrete walls.
The router setup also provides reliable and ultra-fast internet connectivity regardless of how far away from the router you are.
Being a Google home suite product, all you need to do to set up the router is to download the Google Home app and follow the procedures displayed on the screen.
Nest WIFI is also compatible with Google Assistant and Google WIFI, thus is a perfect choice for a smart home setup if you have other Google home products as well.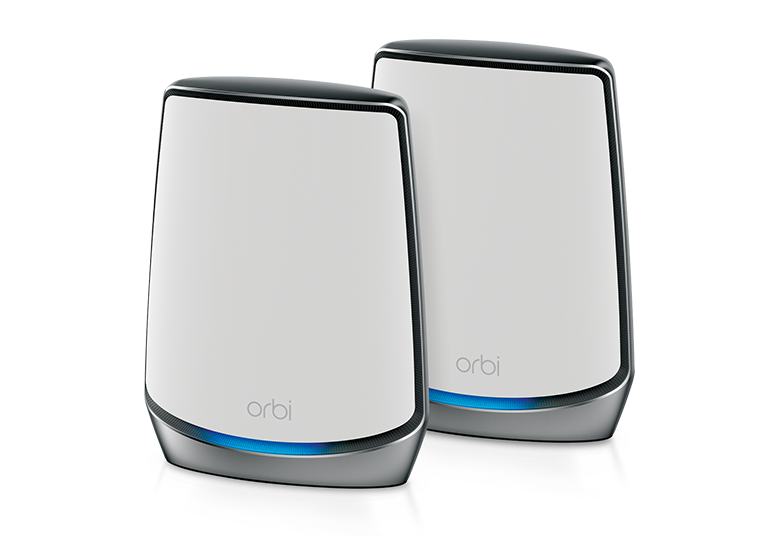 Yet another popular modem and router manufacturer, Netgear also has their own mesh WIFI router option available for home and office use.
Netgear Orbi is the most popular mesh WIFI router from the company.
One of the highlight features of the router is Multi-User, Multiple-Input, Multiple-Output (MU-MI-MO) and there is also an identical satellite unit as well.
These features of the router ensure high-speed internet connectivity thus allowing you to utilize and experience the maximum internet speed offered by your ISP.
So, for anyone looking for crisp and lossless 4k gaming or 4k video streaming, or even super-quick file downloads, the Netgear Orbi is a great choice.
The Netgear Orbi mesh WIFI modem is available on Amazon.com for $259.99. You can purchase the modem by clicking here.
Samsung is also a brand well-known for its suite of smart home products.
The Samsung SmartThings WIFI is one of the best looking mesh WIFI routers in the market.Thus, for anyone seeking a simple-looking and elegant mesh WIFI router for home or office use, then the SmartThings WIFI is a great option.
Not just in terms of look, but this mesh WIFI router is also really functional and user-friendly.
Samsung SmartThings WIFI router is integrated with Plume, which is a Consume Experience Management Platform. The collaboration between the two companies enabled the SmartThings WIFI router to utilize Artificial Intelligence (AI) to efficiently allocate bandwidth depending on the number of connected devices and the usage of each device.
To do the same, the router intelligently selects the frequency channel and bandwidth to give you the best possible experience.
The SmartThings WIFI mesh system is available starting at $119.88 on Amazon.com [click here to buy].
TP-Link Deco Mesh WIFI System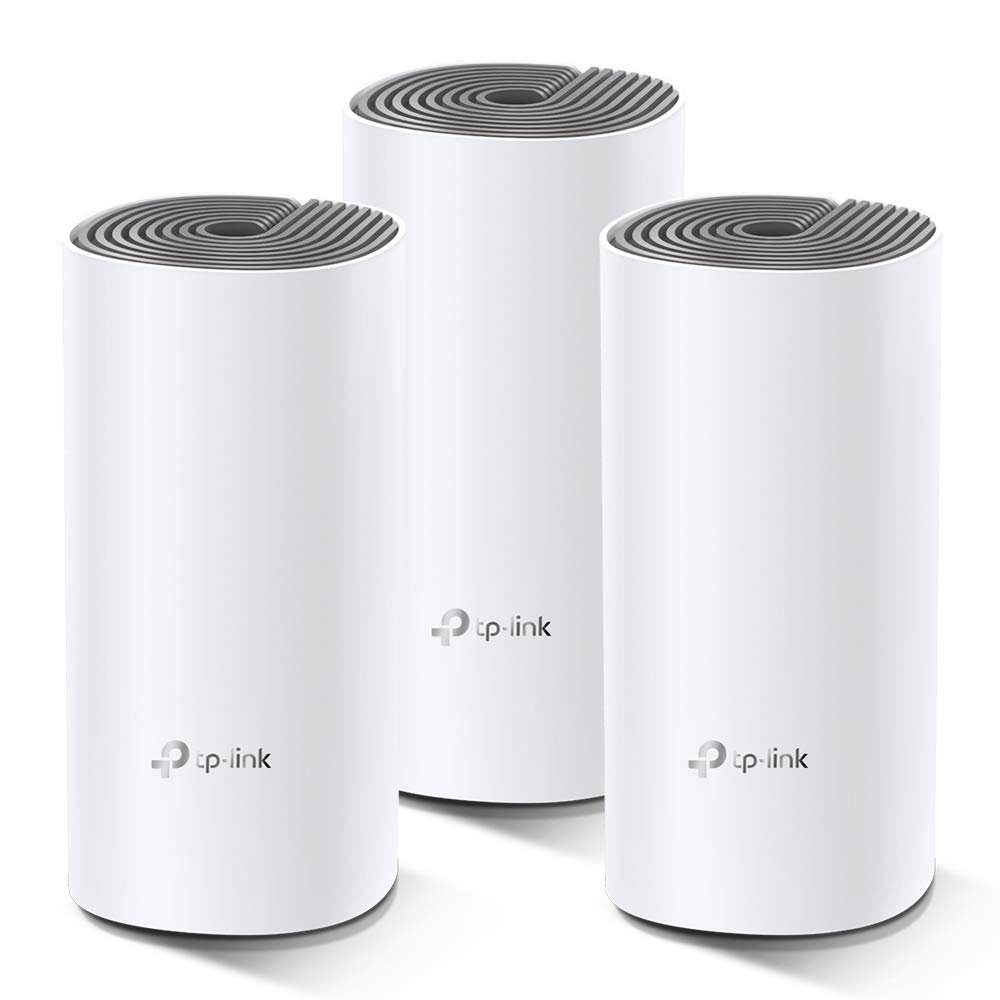 The TP-Link Deco mesh WIFI system currently costs $119.99 on Amazon.com [ click here to buy] and is also a very popular option for anyone looking for a reliable mesh WIFI system.
TP-Link is also a very popular router manufacturer and also holds the No. 1 position in terms of highest customer satisfaction for wireless routers from J.D. Power.
The setup is capable of covering an area of 3800 square feet and has a data transfer rate of 1300 Mbps.
Users can also connect up to 75 devices at once to this router. The setup process is really simple, and moreover, there are parental controls available which is really useful for parents to monitor the content accessed by their children on the internet.
Another great feature of the TP-Link Deco mesh WIFI system is that it is compatible with the Amazon Alexa voice assistant. So, if you have Amazon Alexa devices in your home/office space, then you can easily control the router using voice commands through Amazon Alexa.
There is also inbuilt antivirus protection in this router so that all the connected devices always stay safe from any online threats.
Final Words
We hope you found this detailed article on the best mesh WIFI for thick walls in 2021 informative and helpful.
If you are using any other mesh WIFI system that you feel is worth mentioning in the above list, feel free to leave a comment with your suggestion and your experience using the system in your home or office space.