To sleep 8 hours in 4 hours with the help of sleep apps/
How is it even possible?
Well, sleep is a luxury for most of us.
Even though at least 8 hours of sleep is recommended every day, it is not possible for most adults.
Well, the quality of sleep you get matters more than the actual duration.
So, if you're someone who doesn't get to sleep 8+ hours every day, the next best thing to do is to have a good quality sleep.
How can you possibly get 8 hours of sleep in 4 hours?
The answer is that you need to have a relaxed and calmful mind to have quality sleep.
But, our daily lives makes it harder to have a peaceful and calm mind at the end of the day.
Even though things like meditation can help a lot, most of us finds it difficult to meditate as well.
Thanks to the modern digital age, there are several apps that can help you stay peaceful and calm in the night. Hence, allowing you to get some quality sleep.
If you're in search of such applications, today we're here with a list of applications that can ensure you get quality sleep every night.
Android and iOS Sleep Apps To Help You Sleep 8 Hours In 4 Hours
Slee​pa
Hea​dspace

Digipill

Relax Melodies

Noisli

Calm

Pzizz

Slumber
Sleepa: Best Sleep App For Relaxing [Android & iOS]
Listening to relaxing sounds while lying on bed helps you to get to sleep quickly.
One of the best applications with the best relaxing sounds is Sleepa.
Sleepa features a collection of high-definition sounds that helps you relax and ease the stress before bed.
You can hear to rain sounds, city sounds, meditation sounds, and nature sounds in this app.
Also, the application gives you the ability to mix and match different sounds so that you can pick the ones that you like the most.
The app also supports scheduling, so that you can set the app to stop playing sounds automatically after some time.
Another great feature of this app is that it doesn't require an internet connection.
Headspace : Best Meditation App and Sleep App [Android & iOS]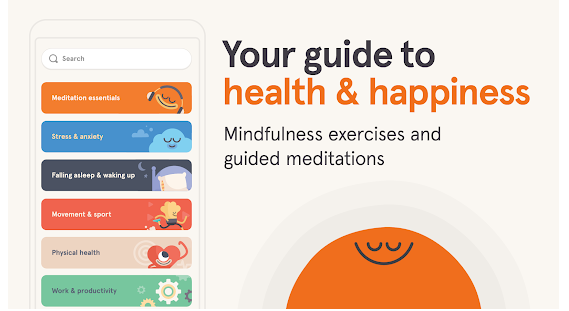 Meditation is another way you can ensure peace of mind in the night and get good sleep.
Headspace is one of the best meditation apps out there on both Android and iOS.
With Headspace, you get the opportunity to learn meditation skills directly from experts all around the world.
Even the co-founder of Headspace, Andy Puddicombe, is a well-known expert in meditation and he also offer courses within the app.
There are free courses that takes you through the basics of meditation.
Then, for those interested in getting in-depth knowledge about practices and techniques used in meditation, they can later join classes and learn the same within the app.
Digipill Sleep & Meditation App [Android & iOS]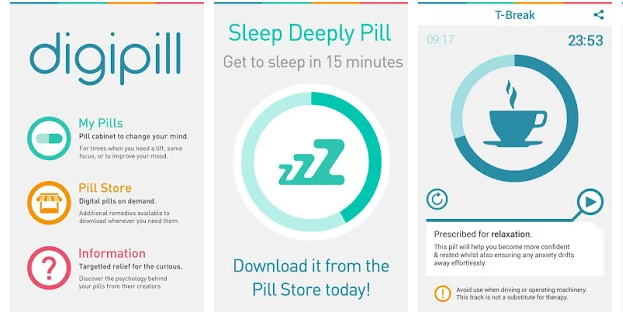 If you're looking for an app that can do more than get you to sleep, then Digipill is the answer.
The Digipill app for Android & iOS lets you reduce stress, fight insomnia, lose weight, stay motivated, and more.
How does the app do that?
Well, within the Digipill application there are something called as "Pills".
The different pills are designed using a combination of Natural Language Processing (NLP) and PsychoAcoustics which helps you to reach your subconscious mind and change the very issue that you're facing.
There is a "Pill Store" within the application and you can download any pills that you deem necessary.
And for anyone looking to get relaxed and sleep well, there is a relaxation pill named "T-Pill" pre-loaded in the application. The pill is completely free and claims to provide results within just 20 minutes.
Relax Melodies : Best Sleep App [Android & iOS]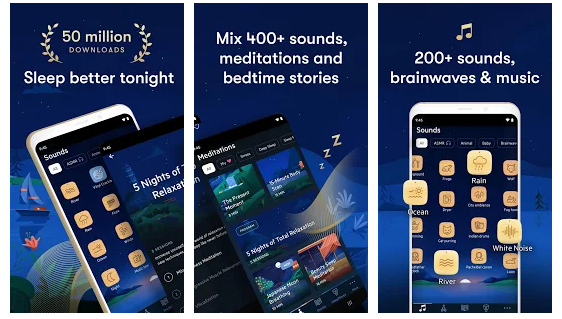 With over 50 million downloads on Android and iOS, the Relax Melodies application does just what it's named like.
The app is a library of a variety of sounds that lets you stay relaxed and stress-free.
Hear to the sounds in the app before sleep, and you can be sure of getting a perfect night's sleep without any hassles.
Not just sounds, but if you're into meditation, then the application also has guided programs for meditations.
Also, there are bedtime stories for people of all ages, so if hearing stories get you relaxed, then that's here as well.
Then there are breathing techniques and sleep moves to follow with or without a pillow.
So, all in all, Relax Melodies is an app dedicated to getting you sleeping.
Noisli : Best Meditation App [Android & iOS]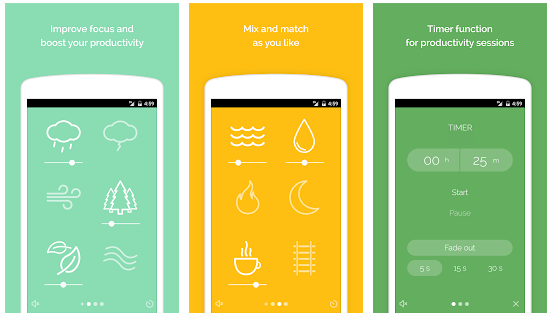 This is an app designed not just to get you to sleep, but also to stay productive as well.
Noisli is an application that has different background noises as well as color schemes that is designed to improve your focus or to get you relaxed.
In either scenario, you can mix and match the sound effects present in the app to create an ambiance that helps you stay focused or relaxed.
A variety of sound effects are present within the app, including that of rain, birds, water stream, wind, forest sounds, and more.
The app also works offline, so that you do not need an internet connection to stay focused or get to relax.
Also, you can download the Noisli app and sign in to your account across all the devices you own. This way, all your favorite sounds and settings and synced across all the devices you own.
Calm : Sleep & Meditation App [Android & iOS]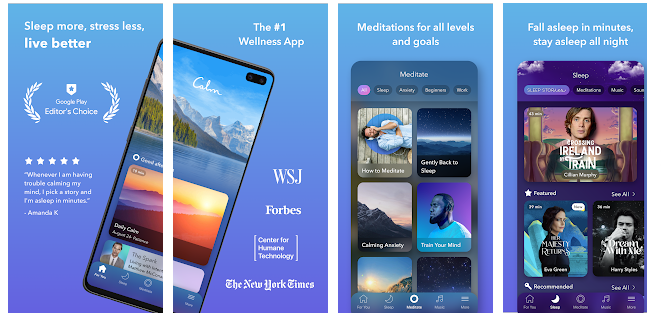 Winning both Google Play Store's "Editor's Choice" award and Apple App Store's "App of the Year" award, Calm has to be the most popular option in this list.
There are millions of Calm app users all around the world experiencing the sounds featured within the app to feel good in their daily lives.
In the Calm app, there are stories suited for bedtime, programs to enhance your breathing, sounds and meditation to get you relaxed and sleep well, etc.
The application is also well-recommended by therapists, mental health experts, and psychologists as well.
To help people with all kinds of focus abilities, the programs within the Calm app are scheduled as 3, 5, 10, 15, 20, or 25 minute sessions.
So, even people with tight daily schedules can use the Calm app and reap its benefits to stay mentally and physically healthy.
Pzizz : Sleep App [Android & iOS]
Featured in popular online sites such as The New York Times, Gizmodo, WIRED, Lifehacker, etc. Pzizz is an insomnia app for iOS and Android.
Pzizz features a patented technology that plays a mix of voiceover, sound effects, and music designed to get you to sleep faster.
The audio effects in the app are aimed at different objectives.
There are sleep modules, nap modules, and focus modules.
So, regardless of whether you're trying to focus on work or studies, or trying to take a power nap, or trying to sleep at night, the Pzizz app can help for all of it.
The app is designed for simplicity. This means that you get to experience the best of the app with just a click of the button.
Also, the app ensures that each time you tune in to get relaxed or stay focused, the sound effects you hear are unique. Thus, your bran doesn't get fatigued over hearing the same audio effects repeatedly/
The app also has several personalization features. You can set the duration for the sound effects, adjust the 3-dimensional effects, change voice gender, and more.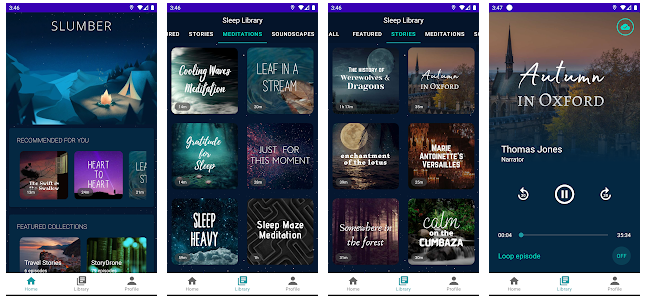 If you're looking for a collection of relaxing sleep & meditation sounds and stories, then Slumber is a great option.
Slumber features an extensive library of voices designed to induce sleep and help meditation.
The application also has a great user interface which makes it further interesting to use.
For free users, there are 10 episodes available which you can use to meditate or to sleep quickly.
Which One Do You Prefer?
So, out of the 15 apps mentioned above, which application helped you the most in getting peaceful nights of sleep.
If you use some other apps which effectively give you the ability to sleep 8 hours in 4 hours, feel free to mention them as comments below.