Discussing energy consumption is no longer reserved to the realm of accounting and financial planning; consumers actively demand that companies promote sustainability and practice corporate social responsibility. A Nielsen study from 2015 confirms this sentiment when it found that a vast majority of millennial take sustainability into account when shopping.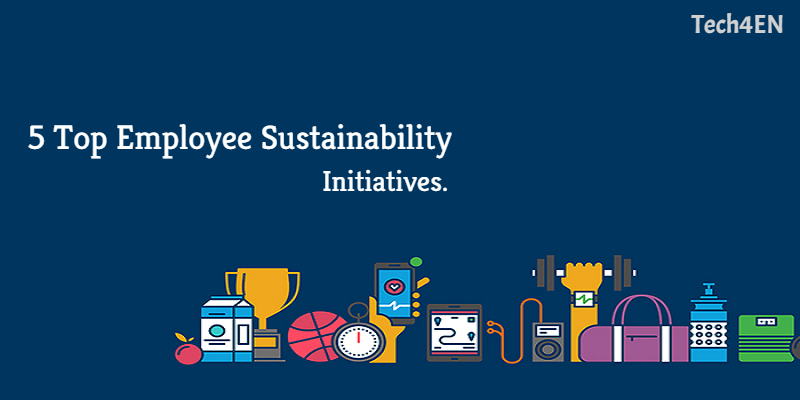 Not only is energy sustainability a financial opportunity for savings, but also a marketing opportunity to connect with younger customers. Besides, if we are ever going to combat the ills of climate change, it's up to companies to lead the way.
Employees play a vital in leading this charge. Unfortunately, it sometimes can be up to shareholders and management to incentivize employees to commit to more sustainable practices. Here, we'd like to outline a few ways that companies can their employees more invested in energy savings. These employee sustainability initiatives will definitely companies retain their workforce and grow better.
5 Top employee sustainability initiatives company should take
Here are some of the top employee sustainability initiatives a company is recommended to take to strengthen their workforce. If you'll into the average cost per hire, it comes around $4.1k which is quite on higher side. And still, you can't be sure whether that person will join or not.
On the other side, if you can simply spend 10-20% of this amount on your employee sustainability initiatives, you can see the miracles. All the top companies where the iterations are very less like BCG, Adobe, Google, Apple, Intuit etc. spend a lot on their employee sustainability initiatives.
The new age companies should definitely learn from these and understand the better way to drive effective employee sustainability initiatives. Now let's start and see the top employee sustainability initiatives every organizations should drive.
Invest in Education
The best way to implement any meaningful change at your organization is to get people familiar with the problem. Educating your employees on a problem with your energy consumption will help your team discover new ways to address the problem and get outside perspectives of the problem.
Get your team familiar with how to operate a utility management tool and programs/strategies to cut consumption. Making this a formal part of training and HR procedures will even strengthen your cause and make employees more likely to comply.
Even if you're not able to afford the costly offline training, you may take the subscription of online learning platforms like Pluralsight, Safari Books Online, Udemy, Lynda, Datacamp etc. These are comparatively easy to afford and you're allowing your employee to explore an ocean of opportunities.
These companies have corporate programs which are bought in bulk and comes with some great deals. Also, they will customize the programs as per your organization need.
Designate an Energy Leader
To truly get your employees thinking about energy savings, consider making some of them in charge of reaching significant energy consumption reductions. This could be traditional management positions or give other employees a chance to show their worth and reach designated energy goals at your organization. Plus, people are more likely to follow through on energy savings when accountability is tied into the process.
You should assign the leaders who can lead by example and not a dictator. The leader should be someone who can take care of their people, understand their problem, help them with the issues, celebrate their success. You'll automatically find the improvement in your team once they will have a leader with positive attitude.
Make Saving Energy Fun
Unplugging computers when they're not in use and much of these mundane activities are not very fun. Try to make reaching your energy goals more rewarding by offering fun rewards. They could be eco-friendly excursions or trips for the team at the end of the quarter or even just rewarding teams with free merchandise when meaningful cut is achieved.
Lead by Example
Of course, no one is really going to follow through on your lofty management goals unless you follow through yourself. If people see you're not turning off your CPU when not in use, then will they? As with everything, led by example.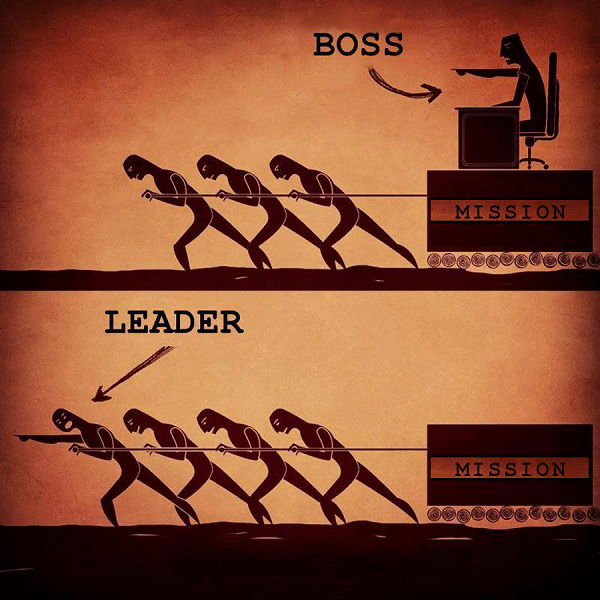 The above picture says it all and that is the reality of this fast-paced world currently. If you want your teams to be productive, give out of box result, you need to be a leader and not the boss.
Make it a Team Project
Finally, make the entire team accountable if you want true collective action. Creating team-based projects also allows you to brainstorm and implement more creative strategies to reach significant energy savings at your organization.
[alert-note]Also Check: How to get business logo developed in less than 60 minutes[/alert-note]
No matter if someone is good or not that good, listen them. Here I am mentioning not that good and not the word "bad". Because if you've hired someone, he or she is definitely not bad at all. An idea or a solution can come from anywhere. I have personally experienced the most beautiful idea coming from the member who hardly used to speak during the team hurdles.
Conclusion
These were some of the best employee sustainability initiatives an organization definitely need to take care of. Apart from these, depending on the geography and area you're working, you may adopt several others. Such employee sustainability initiatives help you motivate, engage, and understand your people.