Keyword research is the most important one needs to carry while setting up your online business. To make your presence felt, you need to select the perfect keywords which can be generated from best keyword research tools. Targeting the wrong keyword might prove to be difficult for the smooth establishment of your online presence.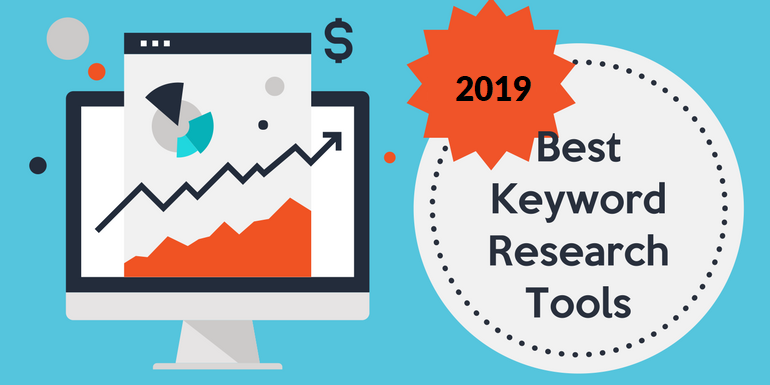 Now that we have understood the importance of the required keywords, the next step is to hunt for the perfect wordings which might not just work for your organisation, but might also prove to the ideal way to boost your sales.
Several leads are generated, only by the use of the appropriate keywords. Keywords are nothing but phrases or sentences that people enter into the search engine to find a solution to their problems. You need to have the right keyword research tools to find the required keywords.
10 best keyword research tools
I've compiled some of the best keyword research tools which you help you do keyword research like a pro in just a matter of minutes:
1) Ubersuggest- Free Keyword Research Tool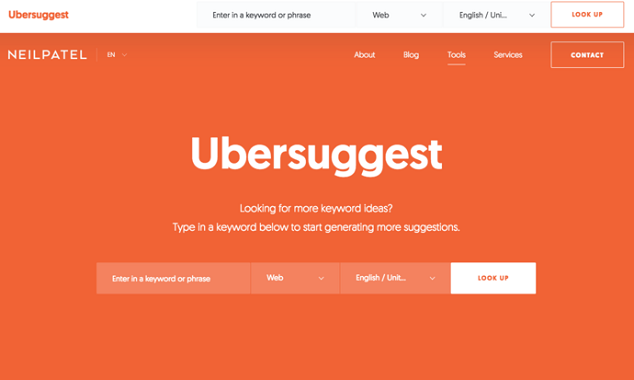 Ubersuggest has proven to be an all-time favourite for several bloggers and online entrepreneurs worldwide. Upon loading the webpage, you could start the keyword research right away without having to do any further clicking. Just enter the domain URL, or seed keyword set your region preferences, and click 'Search'.
If you are looking out for any long-tail keyword suggestions, use the menu on the left and click 'Keyword Ideas'. This will take you to a long list of keyword suggestions – making your search even more comfortable. It also solves the target keywords problem by providing you with a list of keywords that contain specific terms or are within the range in terms of the text matter.
Later Ubersuggest got acquired by Neil Patel and is now available on neilpatel.com/ubersuggest
2) Google Adwords Keyword Planner Tool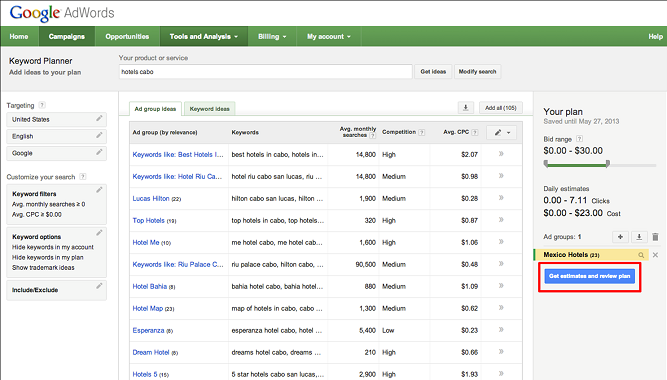 No list of keyword planner will ever be complete without the mention of Google Adwords. It is one of the most popular free keyword research engine and analysis tool available on the internet. Google created this tool for Adwords users to help them with search engine marketing. You may also use this tool to STEAL the keywords of your competitors. Just insert the URL or the landing page of your competitors and hit the get ideas section.
URL: https://ads.google.com/intl/en_in/home/tools/keyword-planner/
3) Jaaxy
Jaaxy is a powerful and practical tool which helps you get the work done straightforwardly. This gives you several different keyword ideas – even those which you would not find on other several other devices. It also provides you with additional information such as competition, search volume and potential traffic, on every keyword that you generate. It also has a unique feature of QSR which stands for Quoted Search Result and helps you understand how many other websites are vying for the same number position for a particular keyword.
URL: jaaxy.com
4) AnswerThePublic
If you are planning to use keyword research for content research, then AnswerThePublic would be the perfect option. You are not required to create an account to perform keyword research. All you need to do is plug-in a seed keyword and click on 'Get Questions' to get going. It will generate search clouds that contain long-tail keyword ideas. If you find it challenging to look for keywords in such a manner, you could always switch to the Data tab, and it will give you a more detailed result.
URL: answerthepublic.com
5) Keywordtool.io- Free Keyword Planner Tool


Keywordtool gives you the best suggestions based on Google Autocomplete. An algorithm entirely generates autocomplete predictions. It helps you get the best long-tail keyword ideas based on 193 Google domains and 83 languages. It also provides you with keywords based on Bing, YouTube and App Store. The tool also suggests the keywords you usually ask the search engines. Go to the questions tab and select the problems related to keywords.
URL: keywordtool.io
6) Google Search Console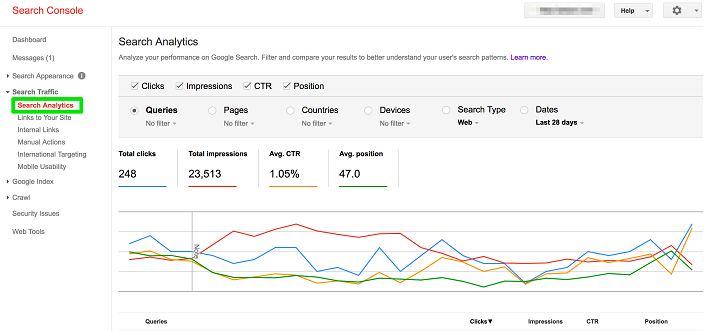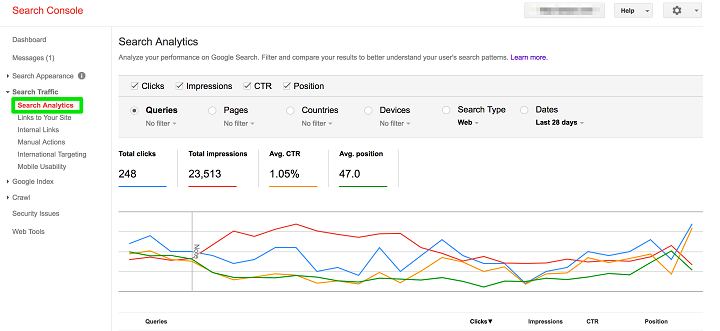 You could easily find hundreds of keywords using the Google Search Console. It comes with the Performance Report feature. This report lists out the pages on your site that gets the most clicks from Google. You can find 'Opportunity Keywords' using this tool. And with a little extra on-page SEO, you can also find the rankings boost.
You can combine your Google Search Analytics and Google Search Console using this tool.
URL: search.google.com/search-console/
7) SEMrush Keyword Magic tool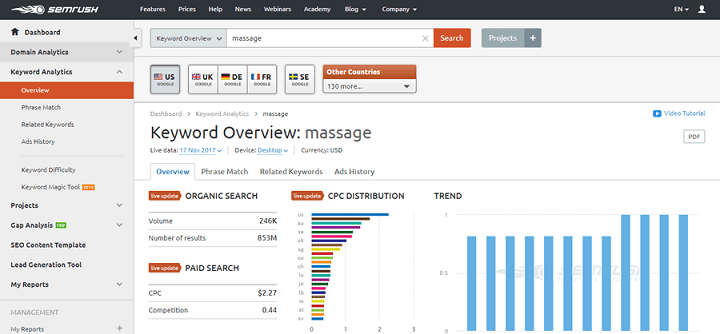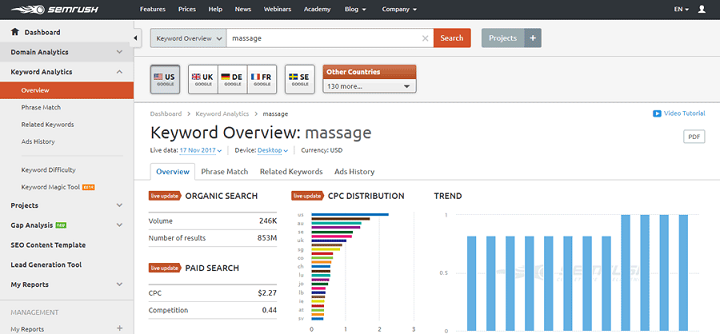 SEMrush is another best keyword research tools. It also helps you out with SEO and digital marketing analytics platform and is, therefore, a pretty powerful search engine for the perfect keyword. Firstly you need to create an account and log in to your account to select Keyword Magic Tool under the Keyword Analytics sub-menu. The route from here is more straightforward – it displays a keyword research interface where you can enter a seed keyword and get things going.
URL: semrush.com/features/keyword-magic-tool/
8) Ahrefs Keyword Explorer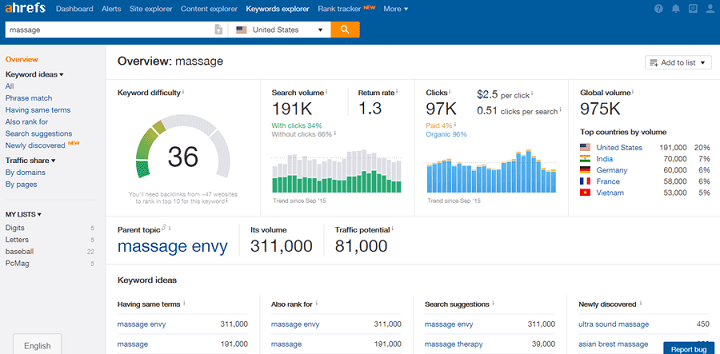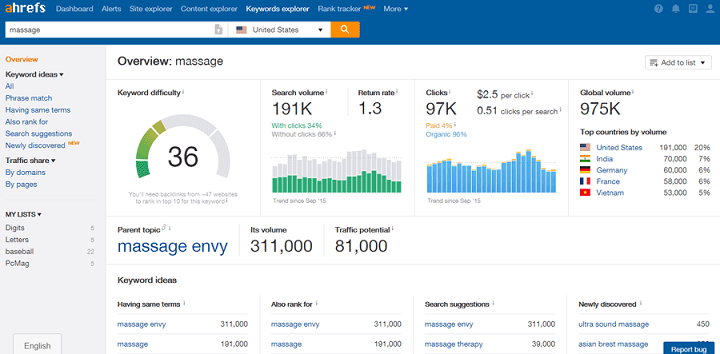 Ahrefs is another keyword research tool which gives you super in-depth information about the keyword. You will get the data you require, but you will also get the detailed information regarding the first-page competition and how many searchers click on the link. It also tells you the number of backlinks you may need to rank on the first page of Google.
URL: ahrefs.com/keywords-explorer
9) Soovle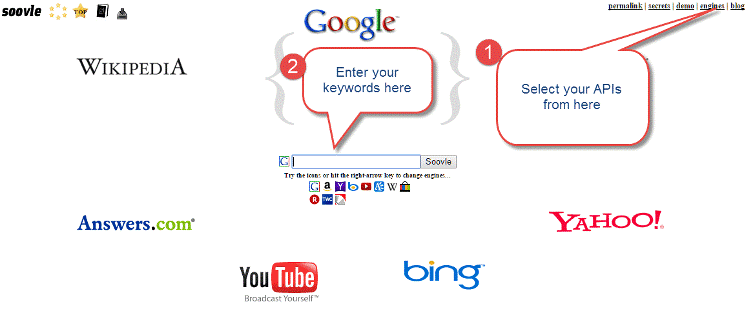 You cannot miss talking about Soovle when you need the best long-tail keyword ideas. It presents keyword suggestions based on Google, Wikipedia, Amazon, Yahoo, YouTube, Answer.com and Bing. The user interface is easy and straightforward to use to get the required long-tail keyword ideas. You can also get the top rating keywords on the internet by hitting the star icon on the top left corner of the screen.
URL: soovle.com
10) SECockpit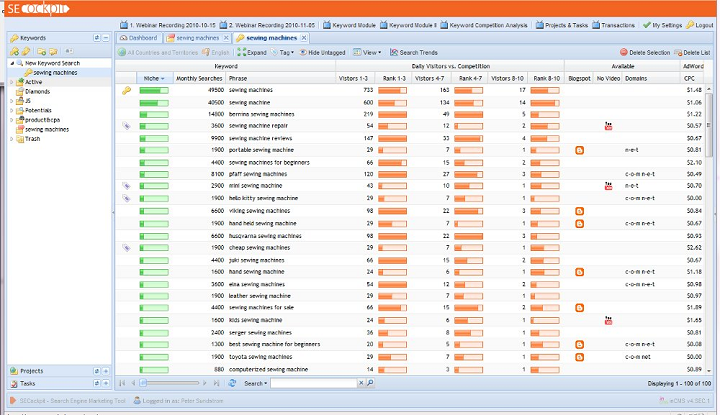 SECockpit is just like any other best keyword research tools – you give the seed keyword, and you will get a list of the results. This tool is primarily based for SEO professionals as you get a detailed inventory of the search trends, organic competition and traffic estimates. The number of features on this tool are painfully scary, but you will probably get your money's worth. You could use over 100 filters to find the perfect keyword you are looking for. You could even search for those keywords which have a better ration in terms of search volume and competition.
URL: secockpit.com
Conclusion- Which is the best keyword research tools
I hope you found best keyword research tools valuable. Let me know what your favourite device is. If you have any other means that you think should be included in the list mentioned above, let us know in the comments below, and we might include them in our next record.
You may also check these best traffic estimator websites to check how much a website or keyword is generating the traffic.