In this How to make money online using blog post, we are going to talk about the different ways to make money online using a blog. So, we are going to talk about how to make money online using a blog.
Blogs are no longer just a hobby and it is a complete professional and people are doing blowing as a full-time income source. I have seen many bloggers earning millions and they have taken blogging as a profession.
So, in this post, we are going to talk about how to make money online using a blog. We'll talk about the different methods using which you can make money online using blog. But one thing I want to make clear over here is that this is not a day or a couple of days or a week of the job. It takes time to establish your blog. It takes time to make your blog as an authority and then it will generate money.
I am an example of it!
I have developed multiple blogs and have scaled it up and have sold it on Flippa. For those who are new to Flippa, it is basically an online Marketplace where you can buy or sell websites, domains, mobile apps, Amazon stores, eCommerce Stores etc.
How to make money online using blog?
Now let's start and see the different ways to make money online using blog. I have discussed here the 5 ways to make money online using blog but there are many and we will discuss others later sometime.
#1 Google AdSense
The first method is through the Google AdSense. Google AdSense is the world's largest publisher for online content and you can make money by showing Google ads on your blog.
There is a very simple step to follow to show the Google ads on your blog. The first step is to get the approval from AdSense.
To get the approval, all you need to do is sign up for the Google AdSense and submit your blog. And then you need to create an ad unit and place it on your blog. Make sure you are placing it on the above fold of your website where you can get a maximum impression on the ad unit.
At the start, the ad unit won't show anything and it will be a blank ad unit. But once your account is approved that ad unit will start showing you ads.
The Google AdSense team will take some time to review your application and if found suitable your application will be approved and you will get an email for that. Once you have received the email, you can create the ad unit and place on your blog.
Now once traffic will start flowing on your blog, you will get clicks on the ads and start making money. Now the money that you will generate completely depends upon how much clicks you are getting.
Because Google AdSense works on the CPC model like for every click you will be getting certain money. Now how much money you will be getting that completely depends upon the number of clicks you are getting, the geographical location of the click, the type of content you have etc. Because different niches have a different kind of CPC and it heavily depends upon the blog niche list and ad niche. For example, insurance and Health Care usually gets high CPC compared to hosting, computer domain.
#2 Guest Post
The second option to make money online using blog is by selling guest post. This method is another major method to make money online using blog. So, what you have to do is, you have to sell the post from your blog to the different buyers.
So, the question is why someone will buy the guest post?
One of the major reason is the SEO. Off page, SEO needs a quality backlink and if your blog is a quality blog, buyers will run for your blog. You can get posts so that the buyers can acquire dofollow backlink that will be helpful to rank their website.
So, depending upon your blog authority and blog quality, you will be getting some amount for the same. If you have good domain authority and some decent traffic, then you might get somewhere around 30-$2000 USD for a dofollow backlink.
You can join some guest posting websites to get guest post frequently for your blog. You should also add contact and advertising page on your blog so that advertisers can contact you.
#3 Amazon Affiliate
The third option to make money online using blog is Amazon affiliate. Amazon affiliate means you'll sell the products available on Amazon and Amazon will give you certain Commission out of it.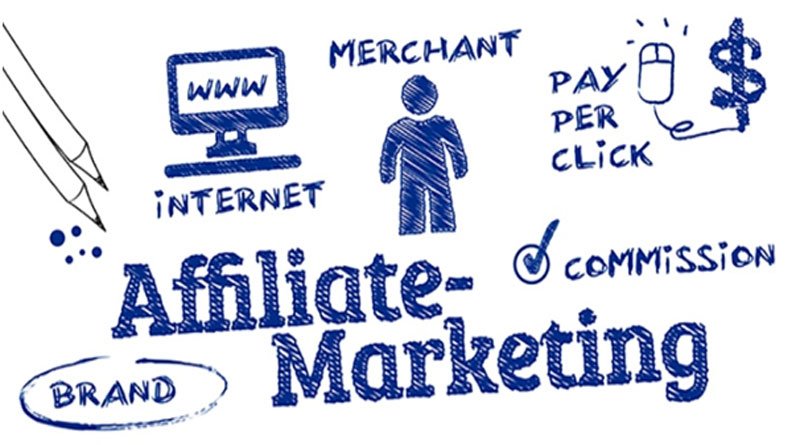 So, the amount you will receive after selling the product depends on the number of quantity of sell. Usually, in the beginning, it will start at 4% and can increase up to 10%. If you are blogging on internet related stuff or electronic gadgets which are a part of Amazon, then Amazon affiliate will be a great source of income.
It will help you to make a good amount of money from your blog. but if you are blogging in the generic niche then it might not good for your blog.
#4 Sell your service
If you are getting quality traffic, then it will be a good idea to sell your own service. If you are good at writing or you're good at website Optimisation or Search Engine Optimisation, you can sell such services on your blog.
Also, the best thing about selling the service is, whatever you will generate will be yours. There is nothing like getting a commission on the sell. For example, let's say you are offering a content writing service at $20 for a 1000 words then all $20 will be yours.
Try selling your services when you have quality traffic and you will never be disappointed. You can generate some handsome amount of money.
#5 Display Ads
Similar to guest post where the intention is to attain a backlink, with display ads the major focus is on traffic and sell. If your blog is of good quality and generates some good traffic, you can easily attract display ads. To get the display ads, either you can deal with the client directly or make a fixed price and list on the marketplace like BuySellAds.
Conclusion
These were some of the best ways to make money online using blog. But as said, this is not a day or a week of work. It takes months to make a quality blog but once done, you can easily generate a good income.